Senate Unveils Portrait of Senator Bob Dole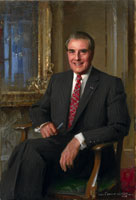 WASHINGTON, D.C.--The U.S. Senate Commission on Art announces the unveiling of a new painting of former Senate Majority Leader Bob Dole (R-KS) at a ceremony in the historic Old Senate Chamber of the U.S. Capitol. The portrait, painted by New York artist Everett Raymond Kinstler, is part of the U.S. Senate Leadership Portrait Collection, which honors past Senate leaders.
Bob Dole's 45 years in public office include service in the Kansas state legislature and both houses of the U.S. Congress, leadership of his party's national committee, floor leadership in the U.S. Senate, and the Republican Party's nominations for vice president and president of the United States. He has left his imprint on a mountain of legislation and campaigned for countless other candidates. As a committee chairman and party leader, he mastered the art of forging consensus and compromise. He also seasons the seriousness of politics and government with a ready supply of good humor, candor, and a common sense approach, earning him respect from both sides of the aisle.
Having established a reputation for toughness, shrewdness, and wit as a legislative leader, Bob Dole became the Senate's Republican majority leader in 1985. He continued to lead the party in the minority from 1987 to 1994, and once again as majority leader from 1995 until he retired from the Senate to accept the 1996 Republican presidential nomination. He was awarded the Presidential Medal of Freedom in 1997 and served as national chairman of the World War II Memorial. In 2002, Bob Dole became a Senate spouse when his wife, Elizabeth Hanford Dole, was elected as a senator from North Carolina.
The Artist
Everett Raymond Kinstler has painted more than 1,200 portraits during a career that has spanned six decades. He has painted five United States presidents and fifty cabinet officers, including Elizabeth Dole. His portraits of Presidents Gerald Ford and Ronald Reagan are the official White House portraits. In addition, Kinstler has painted numerous leaders in business and academic fields and celebrities such as Katharine Hepburn, Tony Bennett, and John Wayne.
Kinstler studied at the Arts Students League, where he later taught from 1969 to 1974. Throughout the decades, Kinstler became established as one of the nation's foremost portrait painters. The Smithsonian's National Portrait Gallery owns 71 of his works and in 1999 awarded him the John Singleton Copley Medal, its highest honor. Kinstler's paintings can be found in many of America's outstanding museum collections, including the Metropolitan Museum of Art, the Butler Institute of American Art, and the Brooklyn Museum.