Senate Unveils Capitol Murals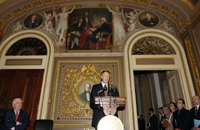 WASHINGTON, D.C.--The U.S. Senate Commission on Art announces the unveiling of two new portrait murals in the Senate Reception Room of the United States Capitol.
The two new paintings depict noted Senators Robert F. Wagner (D-NY) and Arthur H. Vandenberg (R-MI), two giants of the 20th century Senate. Born in 1877, Wagner was elected in 1926 to the United States Senate, where he remained until he retired in 1949. Wagner's two greatest legislative achievements occurred in 1935 with the passage of the Social Security Act, providing old-age pensions to most Americans, and the National Labor Relations Act, which guaranteed workers' rights to organize and bargain collectively. His contemporaries attributed Wagner's legislative successes to his ingrained humanitarian progressive philosophy, his legislative skills, and his strength of conviction.
Wagner's portrait was painted by artist Steven Polson, a native New Yorker. Other notable portraits by Polson include cabinet members Ron Brown, and Christine Todd Whitman.
Michigan native Arthur Vandenberg was born in 1884. After studying law, he became a newspaper editor and publisher. Vandenberg entered politics in 1928, when he was appointed to fill a vacancy in the U.S. Senate. He remained in the Senate until his death in 1951. During the 1930s, Vandenberg was determined to keep the United States out of another world war, but the 1941 Japanese attack on Pearl Harbor caused him to rethink his position. By January 1945, he concluded that his prewar isolationism was the wrong course. In a dramatic floor speech, he called on America to assume the responsibilities of world leadership and endorsed the creation of the United Nations. He spent the remainder of his career forging bipartisan support for the Truman Doctrine, the Marshall Plan, and NATO.
Tennessean Michael Shane Neal painted Vandenberg's portrait. His commissioned portraits include Senator J. Bennett Johnston of Louisiana, Justice Murray Gibson James (North Carolina Supreme Court), and Christian A. Herter (former Massachusetts governor and U.S. secretary of state).
The Senate Reception Room, adjacent to the Senate floor, dates from 1859. Italian artist Constantino Brumidi decorated much of the room with murals in the 1850s through 1870s. In 1957, a committee headed by Senator John F. Kennedy selected five outstanding former Senators to be honored by portraits in some of the spaces left blank by Brumidi. The Senate unveiled those first five portraits in an elaborate ceremony on March 12, 1959.