How Do We Know the Truth?
Crystal Chandelier: Skeletons in the Closet?

Historical Images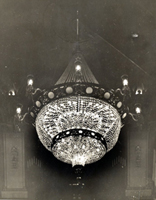 Photographs and records from the Trinity (now Capitol Hill United) Methodist Church just a few blocks from the U.S. Capitol prove that the chandelier once hung in the church's sanctuary.

Historical Documents
Several years after the chandelier was installed in the Capitol, the former pastor of Trinity Methodist Church wrote a letter to the Architect of the Capitol relating the history of the chandelier. Here are the facts:
The chandelier was imported from Europe in 1902 for the Maryland Theater in Baltimore.
When the theater was demolished around 1950, the chandelier was donated to the church by a parishioner.
The pastor of the church made significant modifications to the chandelier, and had it installed in the church sanctuary in 1952.
In 1964 the old church building was demolished to make way for a new one, and the chandelier was obtained by the demolition company, ABC Wrecking Co.


ABC Wrecking sold the chandelier to the Architect of the Capitol for $1,500 and it was installed in the Small Senate Rotunda in 1965.