How Do We Know the Truth?
Bust of James Sherman: Criminal Evidence?

Historical Images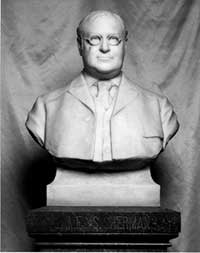 An official photograph of the bust taken over 20 years before the bombing clearly shows the mark on Sherman's cheek.

Historical Documents
In a letter to the Senate, artist Bessie Onahotema Potter Vonnoh noted that a flaw in the marble had appeared while carving the bust. Although initially only a "microscopic" stain, the dark spot became more apparent as the carving progressed. However, there was little that could be done to minimize it, and Vonnoh was directed to continue her work. When the completed bust was delivered, Vice President Sherman noticed the flaw from "twenty or thirty" feet away, but by then it was too late to do anything about it.