Transcript: Clara Barton's Letter to Henry Wilson, Jan 27, 1863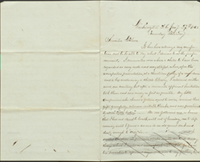 Washington, D.C., Jany. 27th 1863
Tuesday Morning
Senator Wilson:
It has been always my misfortune not to be able to say what I desired to at the proper moment. I remember once when I was a child to have been regarded as very rude and ungrateful when, upon the unexpected presentation, at a Christmas party, of a new dress and a box containing a child's library, I returned neither word nor courtesy, but after a moment's apparent hesitation took them and ran away as fast as possible. My little companions, who shared a fortune equal to mine, received their gifts gracefully, returned suitable thanks, and were pronounced by all to be "Little ladies."-----No one followed me, or knew that I had not dared to breath until out of hearing, nor to stop running until I found a corner in an old garret dark and dusty enough to "cry" in…………………………..and I needed the dress, its possession would enable me to do many things which I could not accomplish without it, for I was too sensitive to represent my wants, even to my father, kind and generous as he was.
You, my dear sir, have been uniformly kind to me, but these last acts of generous solicitude for my welfare and happiness have well nigh sealed my lips against all reply.
I know how my brother's name came before the Senate, and the arrangement was so completely what I needed—would so facilitate my movements—increase my usefulness, and relieve me at once of all that I have ever found unpleasant in my field labors—viz—the necessary contact with strangers upon business matters, that I found myself instantly shorn of any words suitable for a reply, and with instinctive pride, (perhaps) strove to conceal even from you the grateful joy which was streaming through every vein. I was nearly bewildered and only know that the Avenue was long, and the air close, until I found me inside my own door.
Had I been offered a Colonency for my Brother, highly as I should have esteemed the compliment, I must have declined it, well knowing that he has too much good sense to accept for a moment a position for which he is unsuited either by natural taste, or acquired skill.
But this arrangement has in it more of fitness, and wisdom, and will so prove, if consummated, than any appointment of equal rank, which I have known in this army.
I am confident that he will accept the position if offered him, for my sake, if upon no other consideration, and the "bonds" are all one to him if $20,000 or $120,000—the city of Worcester contains a score of men who would individually pledge the latter sum. Col. De Witt would, alone, assume twice his bonds.
I have become so situated that I must perforce, return to the field soon, and perhaps remain long, and nothing could so entirely conduce to my comfort, welfare, safety and efficiency, as that my brother, (if so it is to be), be as speedily assigned as possible, and thrown there with me,—the sooner this were accomplished, the sooner I could go to work , in earnest.
It had been my intention to return to Falmouth this morning, but by advice of my never failing friend Col. Rucker, decide to wait a day. I have of course, given no intimation to my brother of what is pending, and shall not until so permitted by you. With the highest respect for your wisdom and gratitude for your goodness of heart, I beg to remain
As ever yours truly,
C.H. Barton
I return to the army tomorrow or next day.
Document Courtesy of Library of Congress, Clara Barton Papers, Manuscript Division