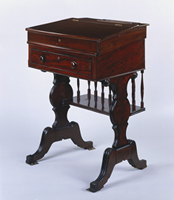 Along with the old Senate gavel, the chamber desks are the institution's most venerable relics. A New York cabinetmaker fashioned 48 of them to replace desks destroyed when invading British troops burned the Capitol in 1814. As new states entered the Union, the Senate commissioned additional desks. Today, reflecting the Senate's respect for its 19th-century traditions, each desk includes an inkwell and a shaker that originally held pounce, finely ground fish bones ideal for blotting ink newly applied to parchment and paper.
Until the first Senate office building opened in 1909, most senators used their chamber desks as their primary working space in the Capitol. As a result, the desks were modified several times during the 19th century to make them more useful. Shelves and tops, or "writing boxes," provided much-needed storage for books and papers. In the 20th century, the Senate addressed poor acoustics in the chamber by installing a voice amplification system, fitting each desk with a small microphone and an amplification box.
Beginning in the early 20th century, senators began inscribing their name inside the drawer of their desks. Some have signed with pen and ink, while others have sought a more permanent medium, carving their names into the supple wood. Sheets of mylar now protect this unique historical record from possible abrasion.