Celebrating Black History Month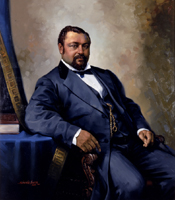 We honor the many African Americans who have enriched the history of the Senate. In 1870 Hiram Revels of Mississippi became the first African American senator. Five years later Blanche K. Bruce of Mississippi took the oath of office, and became the first African American to preside over the Senate in 1879. It would be nearly another century before Edward Brooke of Massachusetts followed in their historic footsteps in 1967.
Illinois' Carol Moseley Braun broke another barrier in 1993, becoming the first African American female senator. Senator Barack Obama of Illinois took office in 2005, then resigned in 2008 to become the 44th President of the United States. To fill his vacant Senate seat, the Illinois governor appointed Roland Burris. In 2013 Senator Tim Scott became the first African American since Reconstruction to represent a southern state. He was joined by appointed Massachusetts senator William "Mo" Cowan on February 1, 2013, marking the first time in history that two African American senators served simultaneously.
These distinguished individuals have enriched the history of the Senate, but the role of African Americans in Senate history is not limited to those who served in elected office.
More on Black History Month