Truman Committee visiting a Ford Motor Company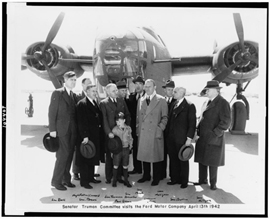 On April 13, 1942, the Truman committee visited a Ford Motor Company in Michigan. Pictured (left to right) Senator Joseph Ball, chief counsel Hugh Fulton, Senator Prentiss Brown, Senator Harry Truman, Paul Brown, Senator Ralph Brewster, Senator James Mead, unknown, Senator Monrad Wallgren,Senator Harold Burton, and Senator Harley Kilgore.
credit: Photo courtesy of the Library of Congress.