1787-1800
February 15, 1797
John Adams' Senate Farewell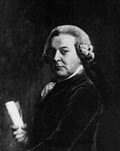 Thanks to a recent best-selling biography by historian David McCullough, Americans have rediscovered John Adams. As the nation's first vice president, and therefore the Senate's first president, Adams significantly influenced the formation of early Senate procedures and precedents. He also arranged for his Massachusetts political protege Samuel Otis to become Secretary of the Senate—an office from which Otis shaped the Senate's administrative operations for a quarter century.
When Adams began his duties in 1789, he privately complained that while he was "Not wholly without experience in public assemblies, I have been more accustomed to take a share in their debates than to preside in their deliberations." Although he promised to refrain from interjecting his own views, he soon forgot that promise. In office for only a month, he entered an extended debate over what title to use in addressing the nation's chief executive. The House had proposed "Mr. President." Believing that titles inspire respect, Adams hoped the Senate would recommend something like "His Majesty the President." Ultimately, the Senate agreed to the House version, but word of Adams' seemingly aristocratic attitude leaked out of the closed Senate sessions and earned him considerable public scorn.
Senators quickly began to resent Adams' pedantic lectures. His friend John Trumbull warned that "he who mingles in debate subjects himself to frequent retorts from his opposers, places himself on the same ground with his inferiors in rank, appears too much like the leader of a party, and renders it more difficult for him to support the dignity of the chair and to preserve order and regularity in debate." Stung by this criticism, Adams told Trumbull, "I have no desire ever to open my mouth again upon any question." And, for the remainder of his term, he seldom did.
On February 15, 1797, as he prepared for his own presidential inauguration, Adams appeared before the Senate for the last time as its presiding officer. In his farewell address, he assured members that he had abandoned his earlier notion that the office of senator should be a hereditary one. The "eloquence, patriotism, and independence" that he had witnessed during his eight years there convinced him "no council more permanent than this will be necessary to defend the rights, liberties, and properties of the people, and to protect the Constitution of the United States."
Reference Items:

David McCullough. John Adams. New York: Simon & Schuster, 2001.
Thompson, C. Bradley. John Adams & The Spirit of Liberty. Lawrence: University Press of Kansas, 1998.