1964-Present
July 30, 1965
Medicare Signed into Law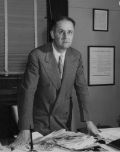 On July 30, 1965, President Lyndon Johnson traveled to the Truman Library in Independence, Missouri, to sign Medicare into law. His gesture drew attention to the 20 years it had taken Congress to enact government health insurance for senior citizens after Harry Truman had proposed it. In fact, Medicare's history dated back even further.
Congress held its first hearings on government health insurance in 1916 during the Progressive Era. During the New Deal, health coverage became part of the deliberations over the Social Security program, but President Franklin Roosevelt decided it was better strategy to pass the old-age pension provisions first. In 1939 Senator Robert Wagner introduced national health legislation and held hearings, but the outbreak of World War II caused his bill to be shelved. It was not until after the war, in November 1945, that Harry Truman sent Congress the first comprehensive federal health insurance proposal. That bill went nowhere.
During Dwight Eisenhower's presidency Congress enacted the Kerr-Mills bill for cases of "medical indigency," to cover elderly individuals who needed help with their medical bills but who failed to qualify for welfare in their states. But reformers regarded Kerr-Mills as inadequate, given the rising number of elderly and rising cost of hospital care.
President John F. Kennedy identified Medicare as a top priority, sending a message to Congress soon after his inauguration. His Medicare plan was sponsored by New Mexico senator Clinton Anderson. Although polls showed widespread public support for Medicare, the American Medical Association launched a national campaign against it, running radio and television ads and sending speakers out to generate constituent mail against the bill. In July 1962 the Anderson bill lost by two votes in the Senate. President Kennedy vowed to carry on the fight, but Medicare hearings in the next Congress were interrupted by news of his assassination.
President Lyndon Johnson continued the effort to enact Medicare. In 1964 the House and Senate passed alternate versions of the bill, but a conference committee failed to resolve those differences. That fall, President Johnson won election with 60 percent of the vote and his coattails considerably enlarged the Democratic majorities in Congress. His chief congressional liaison, Lawrence O'Brien, believed that "for all practical purposes" Medicare was passed on election night because so many of its supporters were swept into office. This time, Congress reconciled its differences and on July 27 and 28, 1965, the House and the Senate agreed to the conference report on the bill. President Johnson then flew to Independence to sign Medicare into law in the company of the president who first proposed it.