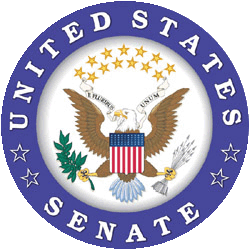 ON THE SENATE FLOOR
Friday, September 9, 2011
Mr. Mark R. Warner, from the Commonwealth of Virginia, called the Senate to order at 9:45 a.m., the Chaplain offered a prayer, and Mr. Warner led the Senate in reciting the Pledge of Allegiance to the Flag of the United States of America.
The Journal
Pursuant to the order of yesterday, the Journal of the proceedings of the Senate was deemed approved to date.
Certain Procedures Dispensed With
Pursuant to the order of yesterday, the morning hour being deemed expired, and the times for the recognition of the two leaders being reserved.
Transaction of Morning Business
Pursuant to the order of yesterday, the Senate proceeded to a period for the transaction of morning business.
Legislative Business (Friday, September 9)
H.J.Res. 66
(Rep. Crowley)
: A joint resolution approving the renewal of import restrictions contained in the Burmese Freedom and Democracy Act of 2003 .
-- Motion to proceed to consideration of measure made in Senate.
-- Cloture motion on the motion to proceed to the joint resolution presented in Senate.
S. 1239
(Sen. Casey)
: To provide for a medal of appropriate design to be awarded by the President to the memorials established at the 3 sites honoring the men and women who perished as a result of the terrorist attacks on the United States on September 11, 2001.
-- Senate Committee on Banking, Housing, and Urban Affairs discharged by Unanimous Consent.
-- Passed Senate without amendment by Unanimous Consent.
-- Message on Senate action sent to the House.
Adjournment
Under the authority of the order of today, at 12:30 p.m, the Presiding Officer (Mr. Manchin in the chair) declared the Senate adjourned, under its order of today, until 2 p.m. on Monday, September 12, 2011.