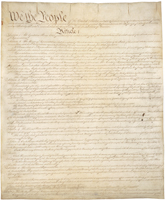 Is it true that . . . The Senate passed a resolution on September 16, 1987 stating that the U.S. Constitution was explicitly modeled upon the Iroquois Constitution?

The answer is no. However, the Senate did pass a resolution in 1988 acknowledging the contributions of the Iroquois Confederacy of Nations to the development of our Constitution and reaffirming the continuing government-to-government relationship between Indian tribes and the United States established in the Constitution.

The facts: Senator Daniel Inouye (D-Hawaii) introduced S.Con.Res. 76 on September 16, 1987. Representative Morris Udall (D-Arizona) introduced similar legislation in the House of Representatives as H.Con.Res. 331. The House agreed to H.Con.Res. 331 on October 4, 1988 by a vote of 408-8, and the Senate agreed to H.Con.Res. 331 by voice vote on October 21, 1988.

Read the text of H.Con.Res. 331 as passed by the Senate and House in 1988.