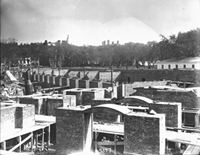 Is it true that . . . the archways in the basement of the Russell Senate Office Building were originally the entryways into horse stables?

The answer is no. The Russell Building officially opened in 1909, at the beginning of the automobile age. The Senate already had its own stable at the corner of C Street and Delaware Avenue making the need for horse stables located within the office building unnecessary. Soon after the Russell Building was opened, the Senate stable was converted to automobile use and renamed the "Senate Garage."

The Russell Senate Office Building-1909-2009 online exhibit provides additional information about the construction and history of the building.