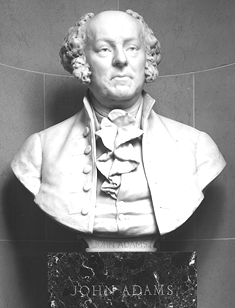 John Adams
(1735-1826)

By Daniel Chester French (1850-1931)

Marble, 1889
Size: 31 1/4" h.
Catalog No. 22.00001

Senate gallery

U.S. Senate Collection
Office of Senate Curator


First vice president and second president of the United States, John Adams was born in Braintree, Massachusetts. A strong supporter of American independence, Adams was elected a delegate from Massachusetts to the First Continental Congress in 1774. After serving as vice president under George Washington, Adams was himself elected president in 1796. Division of opinion within his cabinet over United States-French relations characterized his presidency. Adams undertook a successful peace commission, avoided war, and preserved United States neutrality, but at personal cost. Alienated from the Federalist party, Adams lost the presidency to Thomas Jefferson in the election of 1800.

The bust of John Adams was one of the first to be commissioned following the authorization of the vice presidential bust collection in 1886. Daniel Chester French of Concord, Massachusetts, was selected to sculpt the Adams bust. The artist also played a key role in helping the Senate determine appropriate dimensions for the collection overall, providing reference to placement in the architectural niches in the Senate chamber gallery. French agreed to execute the bust of Adams for the $800 fee the Senate was offering, but worried that the sum might not attract the best artists. He wrote to the architect of the Capitol: "I consider it an honor and worth a great deal to have a bust of mine in so important a position. I do not know how many sculptors you will find who will look at it in the same way."

French has long been considered the "dean of American sculptors." One of the most popular and prolific artists, he is noted for his public monuments, private memorials, and portrait busts. French's most celebrated work is the monumental statue of Abraham Lincoln in the Lincoln Memorial in Washington, D.C. French also executed the bust of Henry Wilson in the Senate's Vice Presidential collection, and the statue of Michigan's Senator Lewis Cass in the Statuary Hall collection in the U.S. Capitol.