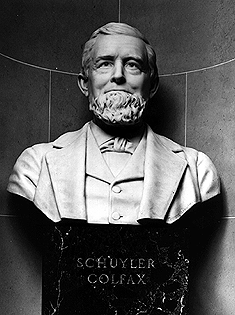 Schuyler Colfax
(1823-1885)

By Frances Murphy Goodwin (1855-1929)

Marble, 1897
Size: 30 3/8" h.
Catalog No. 22.00017

Senate chamber gallery


U.S. Senate Collection
Office of Senate Curator


Vice president of the United States during the first administration of President Ulysses S. Grant, Schuyler Colfax had served 14 years in the House of Representatives, five of them as Speaker. Born in New York City, he grew up in Indiana, where he became owner-editor of a prominent newspaper. Colfax was an active Whig until that party was dissolved in the 1850s; he then contributed his energies to the new Republican party in his adopted state. First elected to the United States Congress in 1854, Colfax was an influential member and strong anti-slavery advocate. As vice president under Grant, Colfax became implicated in the "Crédit Mobilier" scandal (a major financial incident associated with the building of the Union Pacific Railroad), and other irregularities of Grant's administration. Although he was acquitted in a House investigation, the vice president failed to win the renomination of his party and his political career went into eclipse.

Schuyler Colfax had already died by the time Indiana artist Frances Goodwin was requested by the Senate Committee on the Library to present a preliminary clay model of the late vice president. On the recommendation of the former vice president's widow, the committee approved Goodwin's proposal.

Born in Newcastle, Indiana, Goodwin studied with Daniel Chester French at New York's Art Students' League and at the Chicago Art Institute. Her bust of Robert Dale Owen is in the Indiana statehouse. Mrs. Colfax was a regular visitor at the sculptor's Chicago studio while the work was underway, making suggestions that, as she put it, "might aid in modeling a faithful likeness." The Piccirilli Brothers of New York translated Goodwin's clay model into marble, and it was installed in the Senate chamber gallery in 1897.