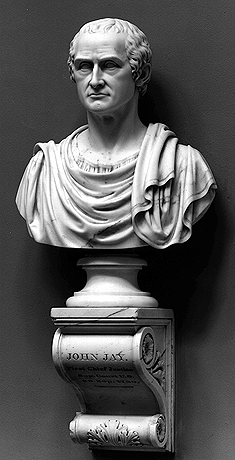 John Jay
(1745-1829)

By John Frazee (1790-1852)

Marble, circa 1831
Size: 24" h.
Catalog No. 21.00010

S-141, Old Supreme Court Chamber


U.S. Senate Collection
Office of Senate Curator


John Jay was appointed the first chief justice of the United States in 1789, serving until 1795. Born in New York City, Jay descended from two wealthy and influential families. As a young man, he practiced law until he became immersed in the politics of the American Revolution. He was a delegate to both Continental Congresses, was later appointed minister plenipotentiary to Spain, and returned to this country to become secretary of foreign affairs. Writing with James Madison and Alexander Hamilton, Jay composed many of the essays contained in the classic Federalist Papers, which were influential in the debate over ratification of the Constitution.

The most important case to come before the Supreme Court during Jay's tenure was Chisholm v. Georgia. In its decision, the Court upheld the right of citizens of one state to sue those of another. During his tenure as chief justice, Jay was called upon to defuse the threat of another war with Great Britain. His negotiations resulted in the unpopular Jay Treaty of 1794. At the close of his career, Jay served two terms as the second governor of New York.

In 1831, Congress appropriated $400 for John Frazee to execute a bust of John Jay for the Supreme Court Chamber in the Capitol. Frazee had originally sought $600 for a commissioned work, and although disappointed at the final amount, he was pleased at the opportunity. He wrote at the time that this was the "first instance where our Government had voluntarily bestowed its patronage on an American genius." Frazee trained as a stonecutter and was largely self-taught as a sculptor. Because Jay was deceased, the artist took his model from a terra-cotta bust of the subject made from life in 1792 by the Italian sculptor Giuseppe Ceracchi, now in the collection of the U.S. Supreme Court.