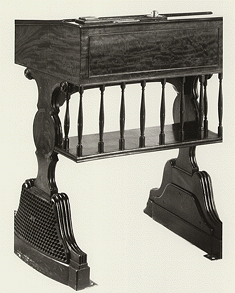 Daniel Webster Desk


By Thomas Constantine (1779-1849)

Mahogany, 1819
Size: 32" h.


Senate Chamber


U.S. Senate Collection
Office of Senate Curator


The Daniel Webster desk is unique among the Senate desks because it lacks the three-to-four inch high mahogany writing box, a modification made to the desks to provide additional room for books and papers. Senator Daniel Webster reputedly refused to have his desk altered, noting that if his predecessor had managed without the extra space, then so could he. No succeeding occupant of Webster's desk has seen fit to abandon that opinion.

Although Webster represented Massachusetts in the Senate, he was born in New Hampshire, and the desk has continued to be associated with Webster's birth state. A 1974 Senate resolution specified that the Webster desk would always be assigned to the senior senator from New Hampshire.