1878-1920
May 31, 1912
Henry "Scoop" Jackson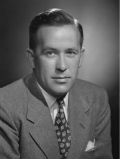 On May 31, 1912, Senator Henry M. Jackson was born in Everett, Washington. While selling newspapers as a boy he acquired the nickname "Scoop" that stayed with him the rest of his life. Jackson started his political career as a prosecuting attorney for Snohomish County, Washington. He won a seat in the House of Representatives in 1940 and was elected to the Senate in 1952. Over the course of his 30 years in the Senate, he chaired the Interior and Insular Affairs Committee, became the first chairman of the Energy and Natural Resources Committee, and also chaired the Permanent Subcommittee on Investigations.
Domestically, Jackson evolved into a leading voice for both energy and environmental issues, balancing the needs of preservation with the use of natural resources. The lumber and paper mills of his home town of Everett put people to work, he acknowledged, but "smelled awful." He promoted a long list of land-use and environmental legislation.
Internationally, Jackson advocated a strong national defense. Although deeply suspicious of detente with the Soviet Union, he was one of the earliest supporters of normalizing relations with China. A champion of human rights, he sponsored the Jackson-Vanik amendment that made foreign trade between the United States and Soviet Union conditional with the Soviets relaxing restrictions on Jewish emigration.
Senator Jackson's legislative accomplishments were numerous, but one small action serves as a measure of the man. In 1982, as construction of the Hart Senate Office Building neared completion, a rash of news stories and editorials denounced it as overly expensive and opulent. This media barrage occurred during a national recession and a congressional election, making senators reluctant to claim offices in the new building, despite their desperate need for more working space.
The Senate Rules Committee urged Senator Jackson to move to the Hart Building. Jackson felt entirely comfortable in the Russell Building, where he had been located for three decades. His staff was divided. Some wanted to move because the additional space would allow them to unify operations spread among a jumble of rooms on different floors. Other argued against the disruption of packing up and moving the entire office, and warned of the bad publicity it might attract. What finally convinced him was the argument that it would take a senior senator, someone respected by both Democrats and Republicans, to provide cover for the rest of his colleagues to make the move. "If you don't do it," he was told, "who's going to do it?" That was how Scoop Jackson became one of the first senators to occupy an office in the Hart Building.