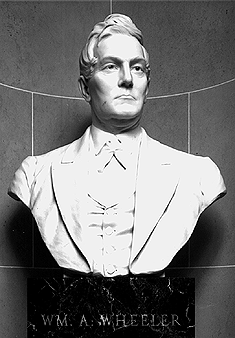 William Almon Wheeler
(1819-1887)

By Edward Clark Potter (1857-1923)

Marble, 1892
Size: 30 3/4" h.
Catalog No. 22.00019

Senate chamber gallery


U.S. Senate Collection
Office of Senate Curator


Lawyer William Almon Wheeler was vice president of the United States and a representative from New York. A county district attorney and a member of the New York state assembly and senate, Wheeler was later active in banking and railroad development. He presided over the New York state constitutional convention of 1867-1868; he then was elected to the United State House of Representatives, serving from 1861 to 1863, and from 1869 to 1877. Throughout his career, Wheeler was known as a man of scrupulous integrity. The Republicans nominated him for vice president in 1876, and Wheeler was elected along with Rutherford B. Hayes in the contentious presidential election that year. Following a single term, Wheeler retired to his home in northern New York.

While Wheeler was living at the time his bust was authorized for the Senate chamber, the commission was not awarded until 1890, three years after his death. Senator Evarts of New York, chairman of the Senate Library Committee, recommended sculptor Edward Clark Potter for the commission. Records indicate that Potter relied primarily on photographs for reference. The completed marble portrait was installed in the Senate chamber gallery in 1892.

Potter was closely associated with sculptor Daniel Chester French. The artist trained in French's studio, where he also studied animal anatomy and began to specialize in equestrian projects. He frequently collaborated with French, especially on a number of figural groups for the World's Columbian Exposition in Chicago. Potter studied and exhibited in Paris, settling in Washington in 1890, the same year he undertook the Wheeler bust. Potter's work was primarily commissions for public sculpture of a traditional nature--equestrian monuments and portrait statues. The artist created the two highly visible lions in front of the main branch of the New York Public Library.